TOP 10 CANADIAN UNIVERSITIES IN 2021 
Canada is known for its excellent educational standards. Any degree, certificate, or diploma granted in this country is equivalent to those offered by the United States and other major nations. Considering both the quality of education and the quality of life, there's no denying the value of attending university in Canada. But which university should you or your child attend? These are the top 10 Canadian Universities in 2021.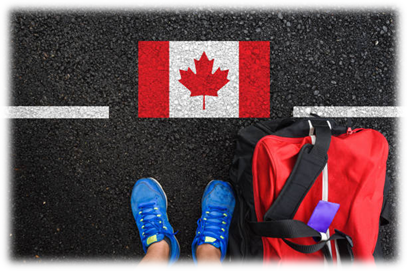 LIST OF THE TOP 10 CANADIAN UNIVERSITIES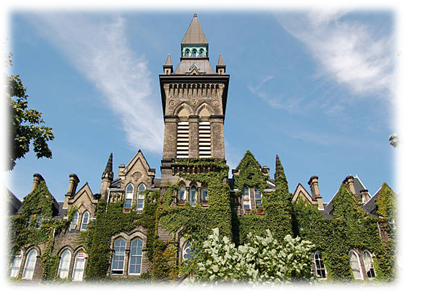 The University of Toronto is a public research university in Toronto, Ontario, Canada, situated on the Queen's Park grounds. When it was founded in 1827 by royal charter, it was called King's College. It became the first institution of higher study in Upper Canada and is 40 years older than Canada, which did not become its own nation until 1867. The university was originally administered by the Church of England, but when it became a secular institution in 1850, it was given its current name.
U of T is a collegiate university with eleven colleges, each with significant financial and institutional autonomy as well as other major distinctions relating to character and history. Scarborough and Mississauga are the locations of the university's two suburban campuses.
Over 700 undergraduate and graduate degrees are offered at the University of Toronto.
University of British Columbia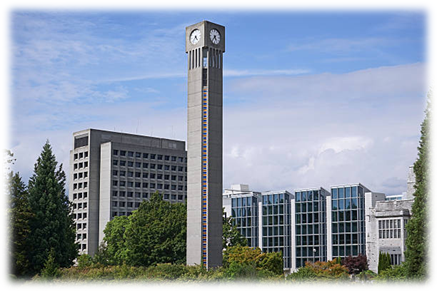 The University of British Columbia's Vancouver campus is located in the University Endowment Lands, about 10 kilometres west of downtown Vancouver, on unceded Musqueam land. TRIUMF, Canada's national particle and nuclear physics facility, is based at UBC and houses the world's biggest cyclotron. UBC and the Max Planck Society collaborated to build the first Max Planck Institute in North America, focusing on quantum materials, in addition to the Peter Wall Institute for Advanced Studies. The UBC Library system, which includes 21 locations, is one of Canada's largest research libraries, with over 9.9 million volumes.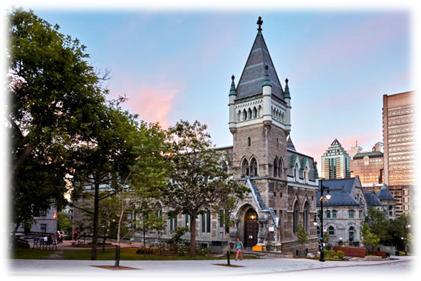 McGill University is a Canadian public research university in Montreal, Quebec. The institution carries the name of James McGill, a Scottish businessman whose donation in 1813 established the university's forerunner, University of McGill College; the name was officially changed to McGill University in 1885.
McGill's main campus is on the slopes of Mount Royal in downtown Montreal, with a second campus 30 kilometres west of the main campus at Sainte-Anne-de-Bellevue, also on Montreal Island.
Along with the University of Toronto, it is one of only two institutions outside the United States that are members of the Association of American Universities, and it is the only Canadian member of the World Economic Forum's Global University Leaders Forum.
McGill University provides degrees and certificates in more than 300 disciplines of study, and it has the best average entry grades of any Canadian university.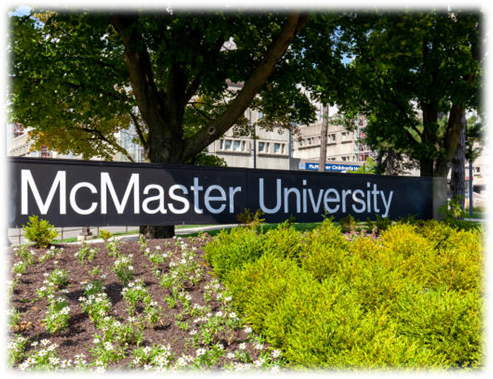 McMaster Institution (McMaster or Mac) is a Canadian public research university in Hamilton, Ontario. The main McMaster campus is situated on 121 hectares (300 acres) of property next to the Royal Botanical Gardens, near the residential areas of Ainslie Wood and Westdale. The DeGroote School of Business, Engineering, Health Sciences, Humanities, Social Science, and Science are among its six academic faculties. It is a member of the U15, a group of Canada's most research-intensive institutions. 
The university is governed by the board of governors and the senate, both of which were founded in 1887 as part of the Act uniting Toronto Baptist College and Woodstock College. The board is in charge of the university's operations, management, and oversight, as well as its property, revenues, business, and affairs. The chancellor, president, and chairman of the board-senate committee on long-range planning are all ex officio governors of the Board. There are also 34 additional governors on the Board, who are appointed or elected by various parts of the university community, including elected student representatives.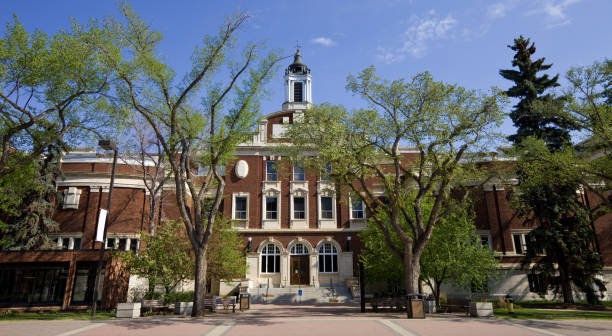 The University of Alberta has dropped four places to 113th in the world this year, but it remains fourth among Canada's best universities. The institution is mostly headquartered in Edmonton, although it is a major economic engine for the province of Alberta, accounting for 5% of the province's yearly gross domestic product (GDP).
It was founded in 1908 by Alberta's first premier, Alexander Cameron Rutherford, and Henry Marshall Tory. The Post-secondary Learning Act made it possible.
The institution is classified as a "comprehensive academic and research university," which implies it provides a wide range of academic and professional programs leading to undergraduate and graduate degrees.
There are about 39,300 students at the University of Alberta, including 7,700 graduate students and 7,800 foreign students from 151 countries. The institution employs 3,620 academics as well as 15,380 support and trust personnel. Since 1986, university teachers have received more 3M Teaching Fellowships than any other Canadian university, with a total of 41 awards.
In September 2003, the University of Alberta moved from a 9-point grading scale to the more common 4-point grading scale. The University of Alberta has produced 72 Rhodes Scholars. The University of Alberta also has the most Academic All-Canadians of any university in Canada, with 2,599 of them.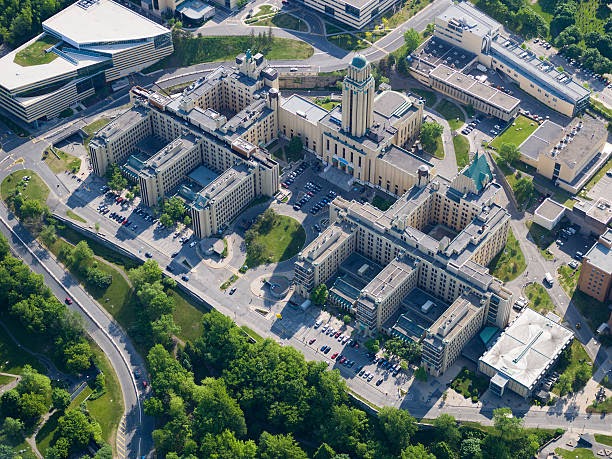 The French-speaking Université de Montréal advances one position to 137th place among Canada's top institutions and 12 places in the globe. Founded in 1878 as a satellite campus of the Université Laval, it presently boasts a total enrollment of 66,768 students, including students from associated schools.
The main campus of the university is located in the Outremont and Côte-des-Neiges neighbourhoods on the northern slope of Mount Royal. The Polytechnique Montréal and HEC Montréal are two connected institutions with thirteen faculties, more than sixty departments, and two affiliated schools. It provides over 650 undergraduate and graduate programs, as well as 71 doctorate programs. The Université de Montréal is a member of the Association of Universities and Colleges of Canada and is a publicly funded research institution. Graduate students make up 24% of the student body, while undergraduate students make up 74%.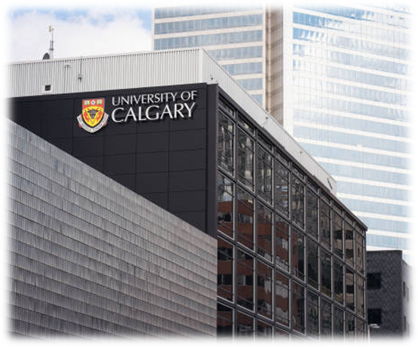 University of Calgary (U of C or UCalgary) is an Alberta-based public research university. The University of Calgary was founded in 1944 as a branch of the University of Alberta, which was founded in 1908. In 1966, it was established as a separate, autonomous university. It has 14 faculties as well as more than 85 research institutes and centers.
The main campus holds the majority of the research facilities and collaborates with provincial and federal research and regulatory organizations, including the Geological Survey of Canada, which is located right adjacent to the campus. The main campus is 200 hectares in size (490 acres).
The university has 250 post-secondary education programs that give bachelor's, master's, and doctoral (Ph.D.) degrees.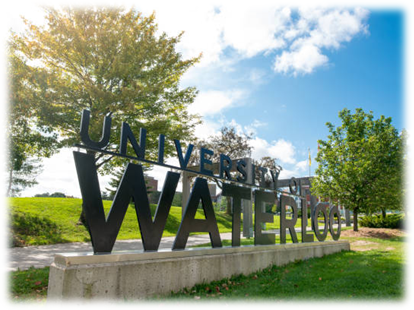 The University of Waterloo (also known as Waterloo University, UW, or UWaterloo) is a public research university in Waterloo, Ontario, Canada. The main campus is situated on 404 hectares (998 acres) of land between "Uptown" Waterloo and Waterloo Park. Three satellite campuses and four associated university organizations are also run by the university.
Waterloo has the world's major post-secondary co-operative education program, with over 20,000 undergraduate students enrolled. Waterloo is one of the U15, a collection of Canada's most research-intensive institutions.
The University of Waterloo Act established a bicameral structure with a board of governors and a senate. The university's holdings, affairs, and revenue are under the control of the Board of Governors. Only 36 members are required by the University of Waterloo Act, and each must be a Canadian citizen. However, the board will have 40 members for the 2013–2014 academic year.
The chancellor and president of the university, as well as the mayors of Kitchener and Waterloo, are ex officio members of the Board.  The remaining 32 board members are chosen or appointed by members of the university community, including alumni, professors, and students.
The Institution of Western Ontario (UWO), now known as Western University and abbreviated to Western, is a public research university located in London, Ontario, Canada. The main campus is situated on 455 hectares of land, bordered by residential areas and with the Thames River bisecting the eastern section of the campus. There are a total of twelve academic faculties and schools within the institution.
Don Wright Faculty of Music, Faculty of Arts & Humanities, Faculty of Education, Faculty of Engineering, Faculty of Health Sciences, Faculty of Information & Media Studies, Faculty of Law, Faculty of Science, Faculty of Social Science, Ivey School of Business, and Schulich School of Medicine & Dentistry are among the university's 11 faculties and schools.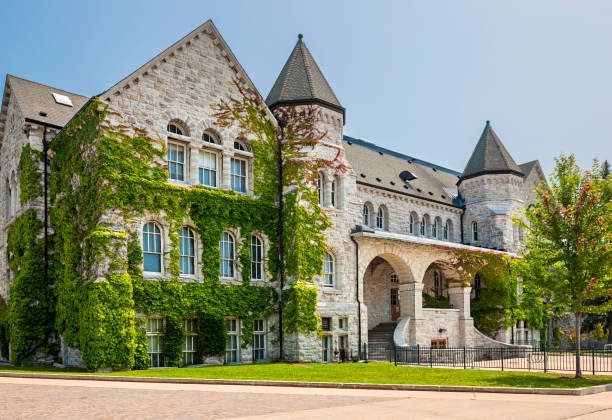 Queen's University at Kingston, or just "Queen's", is a public research university in Kingston, Ontario, Canada. Queen's owns Herstmonceux Castle in East Sussex, England, and owns more than 1,400 hectares (3,500 acres) of land around Ontario. The university is divided into eleven faculties and schools for undergraduates, graduate students, and professionals.
Queen's University was established in October 1841 by the Church of Scotland, thanks to a royal charter from Queen Victoria. The inaugural classes, which were meant to train students for ministry, took place on March 7, 1842, with 13 pupils and two instructors. Queen's was the first institution west of the Maritime provinces to allow female students in 1869.
Queen's University is divided into eleven faculties and schools for undergraduates, graduates, and professionals. The Board of Trustees, the Senate, and the Institution Council, all of which were created under the Royal Charter of 1841, administer the university. The Board is in charge of the university's conduct and management, as well as its property, income, and operations.